About Rise for baby and family
Rise is a small non-profit agency that began in 1981 as an add-on program of the Monadnock Children's Center. In operation since 1966, the Children's Center was responsible for starting some of the first special education programs in the Region.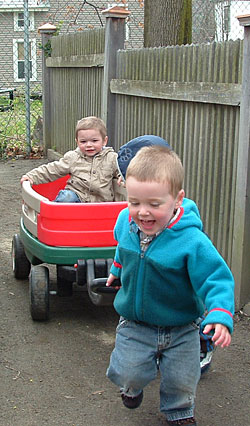 With the advent of the Individuals with Disabilities Act, school systems began providing special education programs to children age three and up. The agency's name then began its evolution to Rise for baby and family. It is commonly known as Rise.
Rise has been a part of New Hampshire's Developmental Service System since the beginning. We are a vendor agency for Monadnock Developmental Services. The growth of Rise has been rapid, expanding from serving 40 infants and toddlers in 1981 to serving 230 in 2014.
Virtually all Rise supports and services are delivered to families in their most natural and relaxed environments. These setting generally range between the home and child care.
Rise Child Care Program and Play Group were started in 1988. They continue to demonstrate that all children can benefit when children with special needs are included with their typically developing peers in a high quality program.
Two key ingredients of Rise for baby and family's success are the growth and retention of qualified staff and the support of our community.
Support Staff
We'd like to introduce you to your support staff:

Rise serves more than 250 children birth to three annually with early intervention and child care programs.