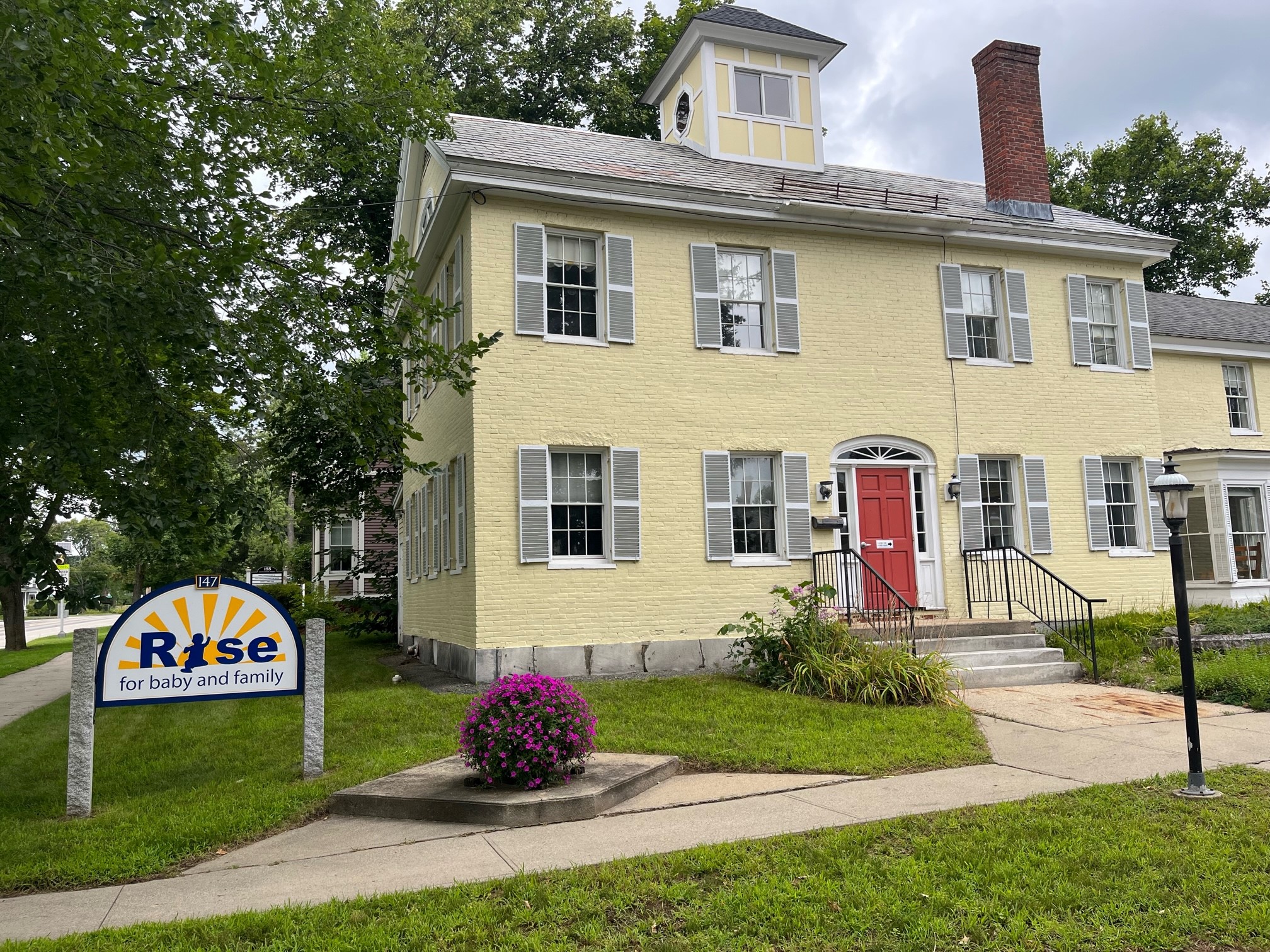 Our Vision
All families in the Monadnock Region receive the support needed for young children to attain optimal early development.
Our Mission
To support families with young children who experience or are at risk for developmental delays or disabilities and to be a resource and advocate for inclusive early childhood systems throughout the Monadnock Region.
About Rise for baby and family
Rise is a small non-profit agency that began in 1981 as an add-on program of the Monadnock Children's Center. In operation since 1966, the Children's Center was responsible for starting some of the first special education programs in the Region.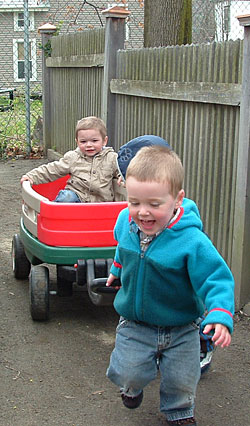 With the advent of the Individuals with Disabilities Act, school systems began providing special education programs to children age three and up. The agency's name then began its evolution to Rise for baby and family. It is commonly known as Rise.
Rise has been a part of New Hampshire's Developmental Service System since the beginning. We are a vendor agency for Monadnock Developmental Services. The growth of Rise has been rapid, expanding from serving 40 infants and toddlers in 1981 to serving over 285 children in 2021.
Virtually all Rise supports and services are delivered to families in their most natural and relaxed environments. These settings generally include the child's home, child care program, or in community settings such as parks, libraries, and the Cheshire Children's Museum.
Two key ingredients of Rise for baby and family's success are the growth and retention of qualified staff and the support of our community.
Annual Report
FY23 Annual Report: FY23 Annual Report
FY21 Annual Report: FY21 Annual Report
Strategic Plan
FY23-FY25 Strategic plan goals: Rise for baby and family Strategic Planning Goals FY23
Ways to Help
As a non-profit, Rise for baby and family is always looking for ways to engage community members in being able to give back. Rise for baby and family accepts:
Financial Donations
No matter how small or big, financial donations support the work of Rise for baby and family and directly impacts the services provided to children and families. To donate, click here.
For instance:
$10 purchases a chewy tube for a child with oral sensory needs
$15 provides nutritious snacks for child care for a day
$25 buys an adaptive piece of equipment for a child to participate in activities with same age peers
$30 supports 2 children participating in a playgroup session
$40 obtains a gift card for a family needing assistance with gas to get to an appointment
$50 allows a child with disabilities to participate in our child care playgroup program for two hours a week
$75 provides additional early intervention services not covered by insurance to support a child with complex needs (i.e. Autism, genetic disorder, hearing and vision, etc.)
$100 covers the gap between what a parent pays for child care and the actual costs of providing child care (approximately $100 / week per child)
Volunteer Opportunities
Volunteers to support our gardens (in the spring and summer), routine cleaning projects, and building maintenance
Volunteers to hold babies and play with young children
Volunteers to staff our annual events
No matter which way you give, you know you are supporting Rise for baby and family in making a difference in the lives of children and families throughout the Monadnock Region.
Ashley Elliott
President
Ashley lives in Keene and works at Timken as a Quality Manager. On the board since 20xx, she is passionate about Rise's mission because of her family's challenging experience gaining proper assistance in another state years ago and works to help all families get the support they need.  
Bari Thompson
Vice President
Bari moved to Keene in 2010 after growing up in the Midwest. Trained as an industrial engineer, she works at C&S Wholesale Grocers and joined the Rise board in 2018. She is passionate about ensuring families have access to the care they need and want, especially in the early stages of development.
Antje Warren
Treasurer
Antje lives in Hillsborough and works for C&S Wholesale Grocers. A native of Germany, she joined the Rise board in 2019. Both her children attended Rise's child care program. She believes children are our future and supports Rise's programs to help ensure children and families receive all the supports they need.  
Kim Allsopp, DMV
Secretary
Kim is an associate small animal veterinarian who lives and works in Keene. She became involved with Rise when her first child received services as an infant and joined the board in 2021. She is forever impressed with the support Rise provides for families when they feel their most fragile and forever grateful for the comfort provided to her as a new mom.  
Randall Carmel
Member-at-large
An attorney, Randall lives and works in Harrisville. He has dedicated the majority of his legal career to advocating for children and families, both in New York City and in New Hampshire. Committed to community service, he has served on the Rise board since 2018 and also serves on the board of Hundred Nights.

Candi Dionne
Member-at-large
Candi lives in Keene with her husband and son and is the senior director of HR operations at NewsBank, Inc. A Keene native, she is passionate about Rise and early intervention and has seen first-hand the difference it can make in the lives of children and families. 
Ashley Guion
Member-at-large
Ashley is a Swanzey native and current Swanzey resident. She is an author, athlete, and mom of two, who both received services from Rise. Despite growing up in the area, she never knew the amazing impact Rise had on the community and the difference it could make on families' lives. As a CPA, Ashley has worked with a lot of nonprofits but Rise is unashamedly one of her favorites.  
Kelsey Harris
Member-at-Large 

Kelsey lives in Keene, NH with her husband, David, and stepdaughter, Avery, and works for Masiello Employment Services as a Staffing Manager. She joined the Rise board in October 2023. She is passionate about Rise's mission because it provides such strong support for families and their young children all around the Monadnock Region. She also serves on board of Monadnock Center for Violence Prevention and is an active YMCA Sneaker Ball committee member. Kelsey enjoys running, hiking, reading and being outside with her friends and family.
David Kochman
Member-at-large
David lives in Swanzey and is active in the greater Keene community. Now retired, he serves as the president of the 100 Nights Foundation and treasurer of Congregation Ahavas Achim, as well as working with Rise. He is also a high school soccer referee and volunteer at the county jail. He serves on the Rise board because early support is so critical and because he likes everybody age 0-3. 
Brian Lee
Member-at-large
Born and raised in the Bahamas, Brian has been a proud resident of Keene for over a decade. A documentary filmmaker, he tries to give back to his community wherever possible. As a strong believer in Rise's mission, Brian feels fortunate to be able to help improve the lives of the many Monadnock children and families in need of early support. 
Dawn Martin
Member-at-large
Dawn has lived in Sullivan with her husband for more than 30 years, raising two children. She has worked at the Savings Bank of Walpole for almost 29 years, currently managing the Mortgage Fulfillment Team. She joined the Rise board because her son received Rise services 25 years ago and she knows first-hand how important early intervention services are.  
Jeanne Pride
Member-at-large
Jeanne has lived in the Keene area for 44 years. She has taught for more than 30 years, at both the high school and community college level. She is passionate about Rise's mission because it provides such strong support for young children and their families all around the Monadnock Region. She also serves on the NH Human Trafficking Collaborative Task Force and New Hampshire Traffic Free. 
Lisa Steadman
Member-at-Large
Lisa lives in Troy with her family and is a licensed insurance agent. She has a son with Down Syndrome which was Lisa's inspiration to become involved in the world of developmental disabilities. She also serves on the Monadnock Regional School District Board, the Region V Monadnock Family Council, and facilitates the See the Able, Not the Label group. 
Barbara Tremblay
Member-at-large
Barbara is a Keene native and current resident. Now retired, she served the Keene School District and SAU29 for eighteen years as a principal, assistant superintendent, and superintendent and also served as superintendent of the Mascoma Valley Regional School District for seven years. She currently serves on the boards of Monadnock United Way and the Ladies' Charitable Society. She serves on Rise's board because of her love of children and her belief in the importance of addressing disabilities and developmental delays as early as possible, while supporting the whole family.  

Rise serves more than 250 children birth to three annually with early intervention and child care programs.