Autism Services
Autism Spectrum Disorder or ASD is a broad group of disorders that is known to be increasing in prevalence around the world. Recent statistics indicate that it may be occurring as frequently as one in one hundred children. In recognition of the needs of young children with ASD, the NH Bureau for Developmental Services has made additional funding available to families for intensive services for New Hampshire's infants and toddlers on the spectrum.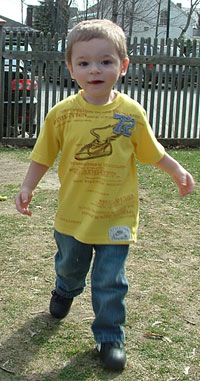 Rise for baby and family has been proactive in accessing training and developing the expertise to respond appropriately to the needs of families with young children with autism. We have developed the capacity to conduct diagnostic assessments, implemented a protocol that assists in identifying children early and we work with community efforts to improve early referrals.
Once a child is identified, Rise provides as much as ten hours per week of skilled one-on-one intervention at home and at child care with emphasis on sharing important skills with family members and care-givers. This one-on-one support is in addition to the child's IFSP which includes services to address communication and sensory needs.
The child's team meets weekly to coordinate and refine services and to assure that the child's complex needs are met in a timely manner using the expertise of the appropriate skilled professional.
We refer to our approach to working with young children with ASD as 'Jumpstart'. Drawing on the UNH Institute on Disability trainings on Positive Behavioral Supports with additional gleanings from Floortime and Hanen, we are seeing amazing results that provide a jumpstart on overcoming the obstacles associated with autism.

Rise serves more than 250 children birth to three annually with early intervention and child care programs.