Early Supports & Services
Rise for baby and family has been providing Early Supports and Services for infants and toddlers in the Monadnock region since 1981. The program has grown significantly and now serves approximately 250 infants and toddlers and their families per year.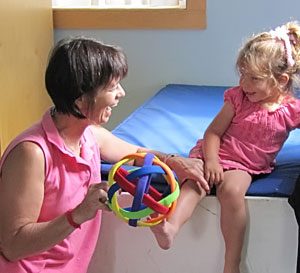 A child may be eligible due to a diagnosed condition, a delay in development or due to high risk factors. Following a developmental evaluation, an Individual Family Support Plan is written to address the unique needs of the child as well as the family's concerns and priorities. Services are individualized and may happen in the child's home and/or in their child care setting. Wherever the child is seen, supports and services are provided in concert with the family. Home visitors are therapists, educators and social workers, all of whom work closely with parents to share their strategies so that parents can use those strategies throughout the day and week to encourage positive changes in their child's development.
The success of this program can be measured by the progress made by the enrolled children and by the satisfaction of the families we serve. Our success has been certified by state conducted compliance reviews and family surveys. We continue to meet 100% compliance on all of the state mandates. In addition, parents confirmed their satisfaction with services in the annual survey. We are proud of our efforts on behalf of children and families and we welcome you to read what our families say.
We continue to work to reach out to the community to develop an understanding of the developmental needs of young children, to encourage early referrals where concerns exist, and to provide the highest quality of services. In short we are "Helping parents help their babies, one family at a time."
Why Start Early
While every child develops differently, if your child is not meeting the milestones for his or her age, or if you think there could be a problem, it is important to act early.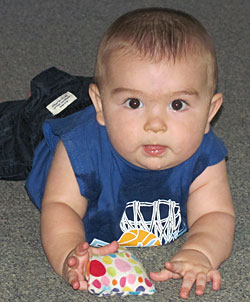 The first three years of life are unlike any other time. A child is experiencing phenomenal changes as they move from being a newborn baby relying on others for all their needs to being a walking, talking, playing, three-year-old. Children are developing their motor skills, cognitive skills, self-help, language and social-emotional skills. Many families find that they have concerns about some aspect of their child's development.
There is no cost to families and no stigma associated with early intervention services. Families from all walks of life have utilized early supports and services for their children. Here are some reasons for seeking services when you have concerns:
Brain Development
The first three years of life offer a window of opportunity to make the most of your child's potential. New scientific research has given us empirical evidence about the importance of the early years. Scientists have used brain imaging showing us that what happens to a child, or doesn't happen for a child, in the first three years influences the actual development of the child's brain.
Prevention
If you think there could be a problem with the way your child plays, learns, speaks, or acts, you may also notice resulting behavior. For example, a two year old who cannot express his/her needs may become frustrated and resort to prolonged tantrums or even withdraw. By starting early we can prevent secondary problems from emerging. With help, children can be spared the secondary problems associated with any delay in development.
School Readiness
Children are developing rapidly at this age. Don't wait for school to begin to seek help with your child's development. Children whose developmental difficulties are identified early can receive help so that they are more ready to learn and more successful when they enter school.
Support for Parents
As a parent, you know your child best. It is natural for parents to have questions about development and how to manage different stages their child may go through. While family, friends and pediatricians are great resources when development follows a typical course, a developmental specialist is more likely to have experience with developmental delays and have reliable strategies to suggest.
Developmental Evaluation
It helps answer important questions. Often parents tell us that they don't know whether they should be concerned or not. Our team of specialists can offer an in-depth evaluation of your child. A developmental evaluation provides solid information about where a child's skills are in comparison to what is expected at his or her age.
For more information on the importance of starting early, developmental milestones for each age, and to "Learn The Signs" visit the Center for Disease Prevention's website.
The Process
The typical steps in the process of early supports & services usually follow this path:
A concern regarding child's development is identified.
A referral is made to Monadnock Developmental Services by a parent, physician or other community member.
MDS makes an appointment to inform the family about services and to complete the application.
The family makes a choice about where they will receive services (Rise for baby and family or MDS Birth to Three).
When Rise receives the referral from MDS we make a home visit to conduct the developmental evaluation to determine eligibility.
When a child is found eligible.
Parents and the evaluation team develop an IFSP (Individual Family Support Plan) and services begin.
Services are reviewed in six months.
Program plan and/or goals are revised as needed.
Child is re-evaluated as needed and goals are updated every six months.
A transition process begins no later than the age of two to prepare for services for the child after the age of three.
A child graduates on his/her 3rd birthday, or earlier if their goals are achieved.
If a child is eligible for Special Education, appropriate services begin at age three.
If a child is found not eligible.
Developmental activities may be recommended.
Child may be referred to another appropriate community services.
Re-check in six months may be scheduled, if indicated.
Referrals
To make a referral, please call Monadnock Developmental Services (MDS) 352-1304. MDS is our area agency and all referrals must go through them.
Someone from MDS will make an appointment with you to complete an application for your child. She will meet with you at your home, at MDS, or any other place that is convenient for you. She will ask you about your concerns and your child's history. If you indicate you want to be referred to Rise for baby and family, she will send the completed application to us.
Once your application has been received at Rise, someone will call you to arrange an appointment for your child's evaluation.
Our goal is to complete the evaluation and make a plan with you in less than 45 days. In fact, it's a promise!
What our families say
If you have a story to share, please use the Contact Us form. All information that would identify a child or family will be kept confidential. Thank you for sharing your experiences with Rise with other parents.
"It was a very difficult and emotional time when we initially found out our daughter's diagnosis. It is because of the endless support from Rise that we have embraced her difference and feel like we have gained some control over the situation instead of feeling consumed by a disability. It is promising that with early intervention and dedication by the family that a child's condition can improve. Our providers have been instrumental in providing our family with the tools we need to work with our child's limitations while fostering growth through therapeutic play. They have worked hard for our family and their genuine provision of services have given our child and us a better future."
"Playing with a one year old doesn't come naturally to me, but with ESS help I have truly enjoyed my daughter in ways I never was able to with my son. Thank you."
"We cannot stress the importance of early intervention services. We strongly believe that our daughter's quality of life will forever be better because of the early work that we as a team did for her. The weekly support, consulting, interactions, professional advice, phone calls, advocating from Rise were critical to her success. They have been angels to our family and we are forever grateful for their commitment to our family and especially to our beautiful daughter."
Our Play Group
Rise offers Playgroups because we know that children benefit in so many ways from playing with other children around their own age. Playgroups are an opportunity for children to play and learn in a safe and developmentally appropriate setting. Several types of playgroups are held year round.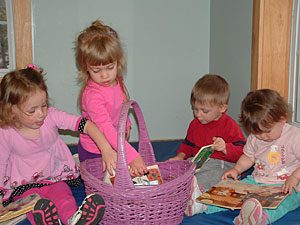 Playgroups are funded by the United Way and are therefore available to families at no cost. Space is limited. If you think you might be interested, talk to your home visitor. The playgroup at Rise is not the only available option. You may prefer another group closer to home and your home visitor can help you investigate other options in the community.

Rise serves more than 250 children birth to three annually with early intervention and child care programs.