Director's Message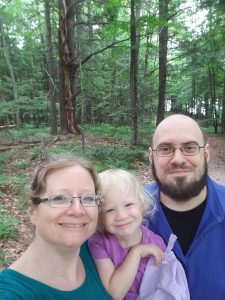 I'd like to thank everyone for welcoming me and my family to Keene and to Rise for baby and family.  In my short time here it is evident how special Rise for baby and family is and how many community members throughout the Monadnock region are connected. It is wonderful to be coming into an agency dedicated to child and family well-being.
In my first few months here, my focus has been on getting to know staff, meeting community partners, and learning about the early childhood systems in New Hampshire. I have just started the journey of meeting individuals and agencies connected to Rise and look forward to continuing to meet new people. If you see me around town, feel free to stop me and say hello!
About me personally
I have been married to my husband, Will, for 13 years.  We have a 3-year-old daughter, Violet. We enjoy hiking, cooking, listening to music, and playing in the snow. We are from Mississippi, but lived in Alaska for 8 years (also where Violet was born). We are excited to be in New Hampshire as we enjoy cooler climates. One of the great things of living in New Hampshire is getting to experience four seasons. Each season brings its own blessings. We are especially ready for the peacefulness of winter time. (The picture is from a hike at Surry Lake.)
About me professionally
I have been working in early childhood for over 10 years.  I have a bachelor's degree in Child and Family Studies, with a major emphasis in Child Life. I became a Certified Child Life Specialist (CCLS) in 2006. I have a master's degree in Early Intervention. I have worked in a variety of early childhood settings including child care, early intervention, child care resource and referral, MS Department of Education, and as a visiting instructor at my Alma Matter, The University of Southern Mississippi. Throughout my career, I have focused on prevention issues and ways to support young children and families. I have a special interest in the social-emotional development and well-being of young children and have a passion for working with young children that exhibit challenging behaviors. Just like the mission of Rise, I know that parenting can be challenging and recognize all families need help at times. I look forward to continuing this mission through our early supports and service (early intervention), child care, and annual events.
I know it will take time to get to know the region, state, and all of you, but I hope to meet all of you soon. In the meanwhile, if you would like to get in touch, I can be reached by e-mail: adeaver@riseforbabyandfamily.org or phone: 603-357-1395 x4020.
Sincerely,


Alicia Deaver

Rise serves more than 250 children birth to three annually with early intervention and child care programs.